Welcome to the PWC online store! Here you can shop for Royal Canin, Hill's, and Purina Rx diets as well as medications such as Revoultion Plus, Heartgard, Cerenia and more! Our store offers competitive pricing, autoship discounts, and promo coupons all while supporting your favorite feline only practice!
In-Office Retail Offerings
At PWC we try our very best to set our clients and their kitties up for success. Despite having a very small retail area it is jammed pack full of our most commonly recommended products. We feel it is better for us to help you select the best interactive toy for your cat based on their play style and preferences, the most appropriate food puzzles based on your cats skill level and the healthiest treat based on their dietary needs, etc. We are also proudly the foraging toy (a.k.a. food puzzles) mecca of Atlanta! If you are looking to get your kitty foraging for their kibble look no further than Paws Whiskers and Claws!
The Feline Flyer, the ultimate feather toy! Interactive play is an imperative form of environmental enrichment. Play can strengthen the human/cat relationship and build a bond, is an enormous outlet for exercise and pent up energy and is the ultimate way to let your little carnivore hunt! Play is powerful! Play has the potential to […]
Read More
This toy has wonderful, fluid movement, is inexpensive and a ton of fun! Interactive play is an imperative form of environmental enrichment. Play can strengthen the human/cat relationship and build a bond, is an enormous outlet for exercise and pent up energy and is the ultimate way to let your little carnivore hunt! Play is […]
Read More
At PWC we pride ourselves in offering an enormous variety of feline foraging toys also know as food puzzles. We have something to offer every stage of forager from beginners to masters! Feeding this way mimics natural hunting instincts and prey drive and gives your cat something fun to do with their day. Foraging is an imperative component to providing environmental enrichment for your indoor cat. For more info read our handout or watch this video!
These cute little mice are such great foraging toys! They are small, easily manipulated, offer appealing textures, and can be picked up and carried around the house just like real prey! They do not hold a lot of food so they are great for portion control as well. They really require some batting around to […]
Read More
Does your litter box look like this?  Well, it should!!  We provide the service of cutting and sanding these large, clear storage containers for a fee of $15.00.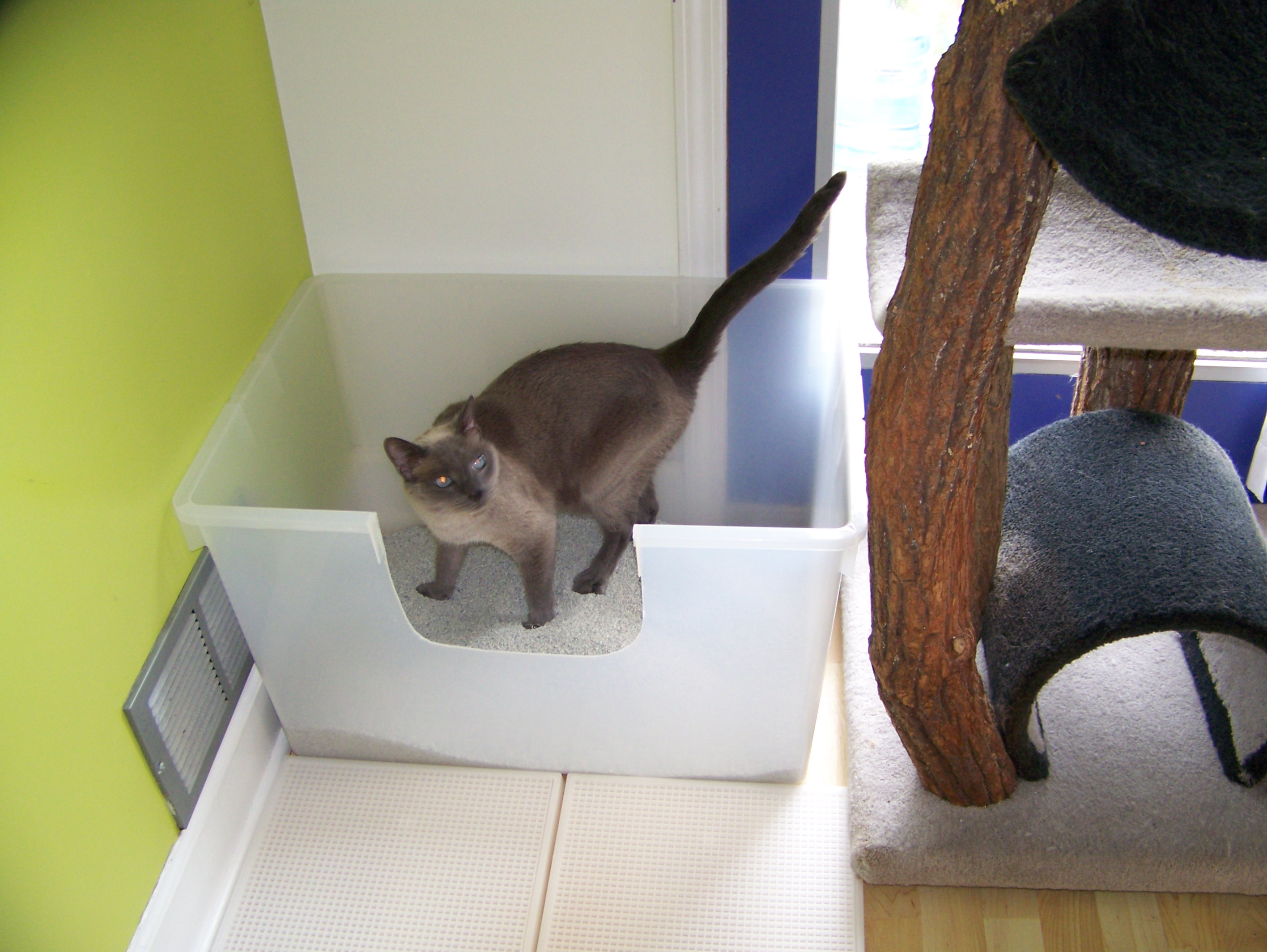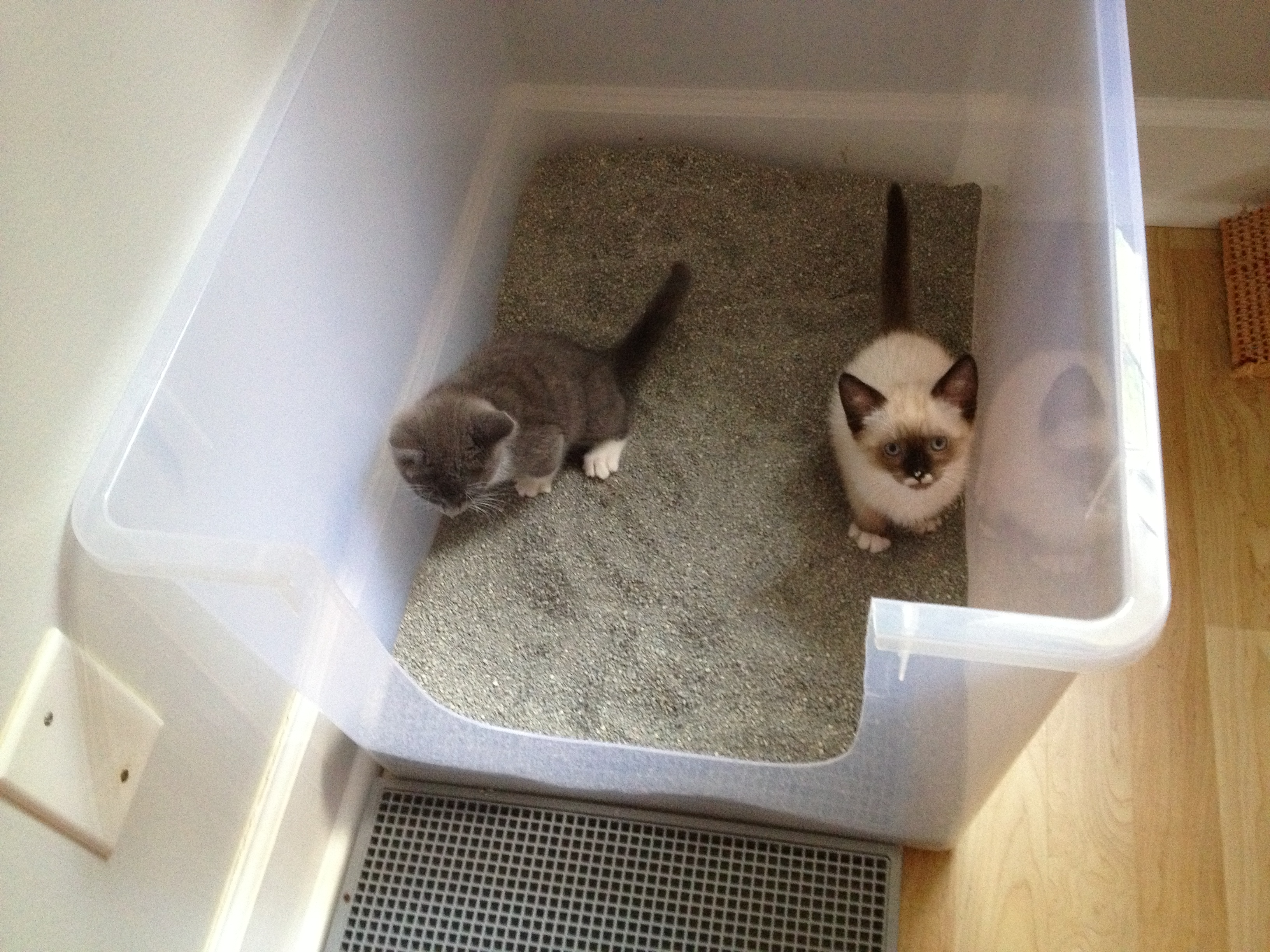 This style of litter box provides the function of a hooded box without the hood. It is clear so that the cat can see who is approaching, but keeps the mess inside, making it easier maintenance for the humans! Most commercially available litter boxes are MUCH too small. Cats do not eliminate in cave like […]
Read More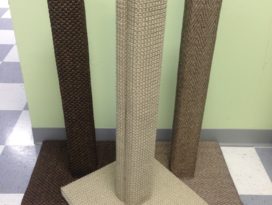 Available in a variety of colors to match any decor! These posts are handcrafted and locally made by Fundamentally Feline and feature both a sisal post and a sisal base for the cat that prefers to scratch horizontally. This post stands 32″ tall and is stable so your cats can really throw their weight into them […]
Small carrier pad. All cats should have bedding in their cat carriers. It makes the trip more comfortable and more pleasant and catches any messes that may be created during travel. These pads from Cat Chi Designs come in so many varieties. colors and patterns we could never show them all. You must come by […]
These awesome cat beds from Cat Chi Designs are a great way to make the cat carrier a more inviting place to be and a more pleasant experience. You can purchase with or without the removable and reversible pad insert (but we recommend the insert for added plush!) Bedding is an important item to include […]
These beds are all hand-made and each one unique. Available in a wide variety of colors and patterns ranging from fun, bold, cat themed fabrics to traditional and modern home decor patterns, there is something for everyone. This bed is versatile in that it can be traditionally used as shown (right) or left like a […]
We carry a wide variety of prescription diets including Hill's, Royal Canin, Purina, and Iams Veterinary Diets. Why? Because we are cats only and we understand that diet changes can difficult for cats. We strive to help you find something they find delicious while being medically beneficial to them.
These treats provide safe and effective options formulated with science you can trust to help improve your pet's quality of life, and support the therapeutic treatment goals identified by your veterinarian.  They provide nutritional support solutions for cats designed to work with ROYAL CANIN therapeutic diet formulas. Provide safe & effective options with science you […]
We refer to these treats as the healthy version of "Temptations." Crunchy on the outside, soft on the inside, and apparently they are delicious! These make a great training reward, you can use to spike a food puzzle to motivate foraging behavior and they can even be used as a medicating tool!
Irresistible catnip carrots These carrots have ridiculously potent catnip in them that no cat can resist and not to mention they are super cute!   *Available seasonally each spring (and sometimes into the summer) Asleep post catnip carrot stupor!
Read More
Medical and Grooming Supplies
Adjustable opening accomodates a variety of pill sizes. At PWC we do not take no for an answer when it comes to medicating cats! We will help you find a way. We are happy to teach how to properly orally medicate but we will also help you achieve this, even if you are not very […]
Read More